Heads Up! Another giveaway is up on my blog:
www.beatblack.com/1/post/2013/…
, this time to win one of two mutant cupcake necklaces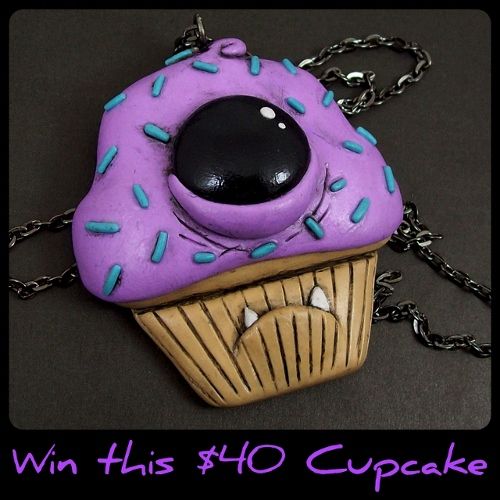 This one has two separate draws to enter. The first one is easy and only requires an email address to enter. The second is for those people who NEED this necklace. It's a bit of a hunt to find the answers but the odds are better for those that do. Just be careful, I've had a handful of wrong answers and only the correct ones will be entered.
So far I'm impressed with how many people are taking the time to enter the second giveaway! I've taken it easy the last year and a half (plus) and it cool to see how many people are still lurking. My hands still ache but much much less and I'm hoping to make some updates of stock and other stuff online. I read something on a social media site the other day that said I was still 23, on another one something about bacon even though I've been a vegetarian for years, haha... so i'm slowly working on all that. I think the myspace page needs to be closed down too (yikes)
Once the giveaway winners are annouced I'll be creating a coupon code that can be used on anything in my etsy shop, including the sale section. The next giveaway on my site wont be for a very long time but if you want to learn about where else they are being given I'll have that info on my facebook fan page: www.facebook.com/beatblack.handmade
www.facebook.com/beatblack.han…
I can't hardly wait to annouce the winners, good luck!!